Debt Financing vs Equity Financing: Which Is Right My Business?
You can't start a business without first securing capital. According to the Small Business Administration (SBA), most small businesses in the United States are started with less than $25,000. Unless you have that kind of money saved up, you'll have to seek funding from a bank, lender or investor. While there are dozens of ways to finance a new business, though, most fall under the category of debt financing or equity financing.
Debt Financing vs Equity Financing: Which Is Right My Business?
What Is Debt Financing?

Debt financing involves borrowing funds for business-related purposes under the agreement that you'll pay the lender back, typically with added interest. Business loans, which are offered by both banks as well as alternative lenders, are considered a form of debt financing. If you take out a business loan, your business will incur debt, which you must pay back.
Debt financing can be either secured or unsecured. Secured debt financing requires the use of collateral, whereas unsecured debt financing does not require the use of collateral.
Benefits of Debt Financing
Many entrepreneurs prefer debt financing over equity financing because it allows them to retain full ownership of their company. If you choose equity financing, you'll have to give up partial ownership of your company. Debt financing, on the other hand, allows you to maintain your company's equity and, therefore, all of its future profits.
What Is Equity Financing?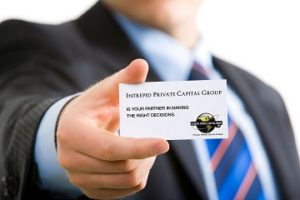 With equity financing, you don't borrow funds. Rather, you secure funding for business-related purposes by selling ownership interest in your company.
If your company is profitable — or if it shows strong growth potential — an investor may be willing to purchase some of its equity.
Benefits of Equity Financing
The primary benefit of equity financing compared to debt financing is that you don't have to pay it back. Whether you generate $10,000 or $100,000 through equity financing, you won't have to pay back a dime.
Equity financing is, in some cases, easier to acquire than debt financing. With debt financing, the lender will scrutinize your business to gauge its risk of default. If the lender deems your business as a having a high risk of default, it may reject your application for a loan. Since you don't have to pay back money acquired through equity financing, though, investors don't care about default risk.
This article was brought to you by Intrepid Private Capital Group – A Global Financial Services Company. For more information on startup and business funding, or to complete a funding application, please visit our website.