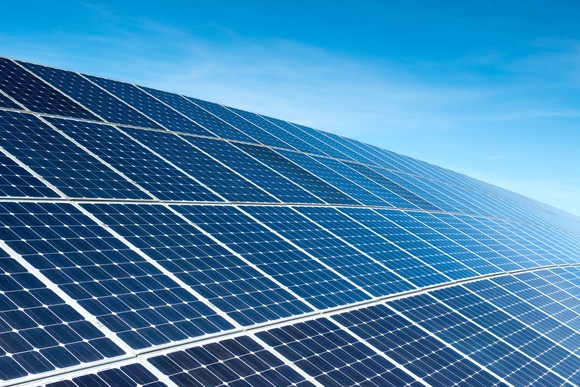 Chinese Solar Stocks: U.S. Tariffs Vs. Chinese Panels
"There can be no argument with regard to U.S. commitment to alternative energy – especially as it relates to solar and wind power. The big question, however remains: How to convert cost-effectively and is a war on coal and oil really make sense until the alternatives are up to speed?" How will Chinese solar stocks be affected?
Higher End Prices Likely 
First Solar, SunPower up, JinkoSolar, Trina down; jury still out on SolarCity
Solar panel prices for end users will rise due to proposed U.S. tariffs on China solar imports, but that shouldn't have much impact on demand, analysts say: News of the 19%-to-35% duties announced Tuesdayby the Commerce Department – meant to counter Chinese government subsidies to local manufacturers – boosted major American solar panel makers and dented Chinese solar stocks Wednesday.
"We believe the impact to earnings will be partially offset by the resulting higher prices," Jefferies analyst Joseph Fong said in a research note, adding that solar panel, or module, prices are apt to rise in the U.S.," benefiting domestic manufacturers at the experience of end consumers."
U.S. Panel Market Shine
He says the Commerce Department's wording "has effectively closed" a loophole in which Chinese manufacturers avoided duties by sourcing their solar cells from Taiwan.
First Solar, the top U.S. solar panel maker by market cap, rose 4% Wednesday, SunPower jumped 7%, and SunEdison 6%.
Commerce calculated a preliminary subsidy rate of 18.56% for Trina Solar and 35.21% for Sun Tech Power and five affiliates. All other Chinese producers/exporters get a 26.89% rate. Commerce set countervailing duties based on those rates.
Imports of silicone photo voltaic products from China totaled about $1.5 billion in 2013.
The law seeks to create a "level playing field" by providing relief from imports benefiting from "market distorting" subsidies, noted Commerce's International Trade Administration unit with the preliminary decision Tuesday. It experts to announce a final determination on or near Aug. 18.
"U.S. module manufacturers, such as FSLR and SPWR, are clear beneficiaries of this decision," Roth Capital Partners analyst Philip Shen said in a research note Wednesday.
Chinese Solar Stocks
"Chinese manufacturers are negatively impacted, given the uncertainty around how to address the U.S. market." Shen added the duties are "an incremental negative" for "downstream" players such as U.S. installer Solar City and Real Goods Solar.
Among Chinese stocks on Wednesday, Junko Solar fell 7.5%, Canadian Solar 6% and Trina 4%. IBD's Energy-Solar industry lags at No. 165 out of 197 groups.
Shen wrote that he sees upside risk to module average selling prices.
"While the general consensus downstream is that U.S. demand should not be materially hampered, our checks indicate that a number of upstream suppliers appear to be in a wait-and-see mode on shipments until the AD (anti-dumping) decision comes out in July," he noted. "As a result, we believe limited supply, combined with robust demand from residential/commercial installers could drive module ASPs to 80+c/W in the near term."
Little Demand Impact
Shen maintains a 6-gigawatt U.S. forecast for 2014 but says potential downside risk "could be driven by a decrease in price-sensitive utility scale demand." He says the trade case will likely remain a near-term overhang on stocks until more clarity arrives with an anti-dumping policy decision expected around July 25.
The trace dispute moves come amid what analysts say has been looking like a healthy solar marketplace with decent amount of business to go around. In May, Cowen & Co. analyst Rob Stone told IBD that as of late prices on the module level have been quite stable for about six quarters now – some prices are generally coming own but at a slower rate."