Intrepid executive Group Attend the U.S. Africa Summit
Washington, D.C. – August 2014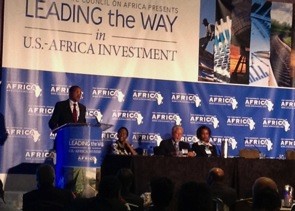 The CEO of Intrepid Executive Group, LLC – a Maryland Limited Liability Company and – was invited by Tanzanian Embassy dignitaries to attend the historic U.S.-Africa Summit in Washington, D.C. today. Washington's Corporate Council on Africa hosted the forum featuring many African Heads of State, who spoke to the attendees.
Among those present were the President of the United Republic of Tanzania – H.E. Dr. Jakaya Kikwete (at the podium) and to his left H.E. Liberata Mulamula, Ambassador, Embassy of the United Republic of Tanzania to the United States.
 The purpose of the week-long Summit presented a rare opportunity to hear from multiple African leaders, meet and network with U.S. and African private sector and government decision makers to further advance their business interests throughout the continent and to build a stronger middle class in Africa, especially throughout the private sector. Mr. John enjoyed the opportunity to meet and discuss such strategies with Mr. Godfrey Simbeye, Executive Director of the Tanzania Private Sector Foundation (pictured right).
Established in 1999 as Convergence Management Associates – a Maryland/USA LLC, Convergence does business as a "Gatekeeper" organization, exposing high quality business opportunities to private global capital investment around the world.